SMA China partners with CMIG New Energy to expand residential PV market in China
Suzhou/Wuzhen, June 13th, 2017 – SMA China signed a strategic cooperation agreement with CMIG New Energy to power the first new energy supply chain interactive service platform in China to expand the residential PV market in China.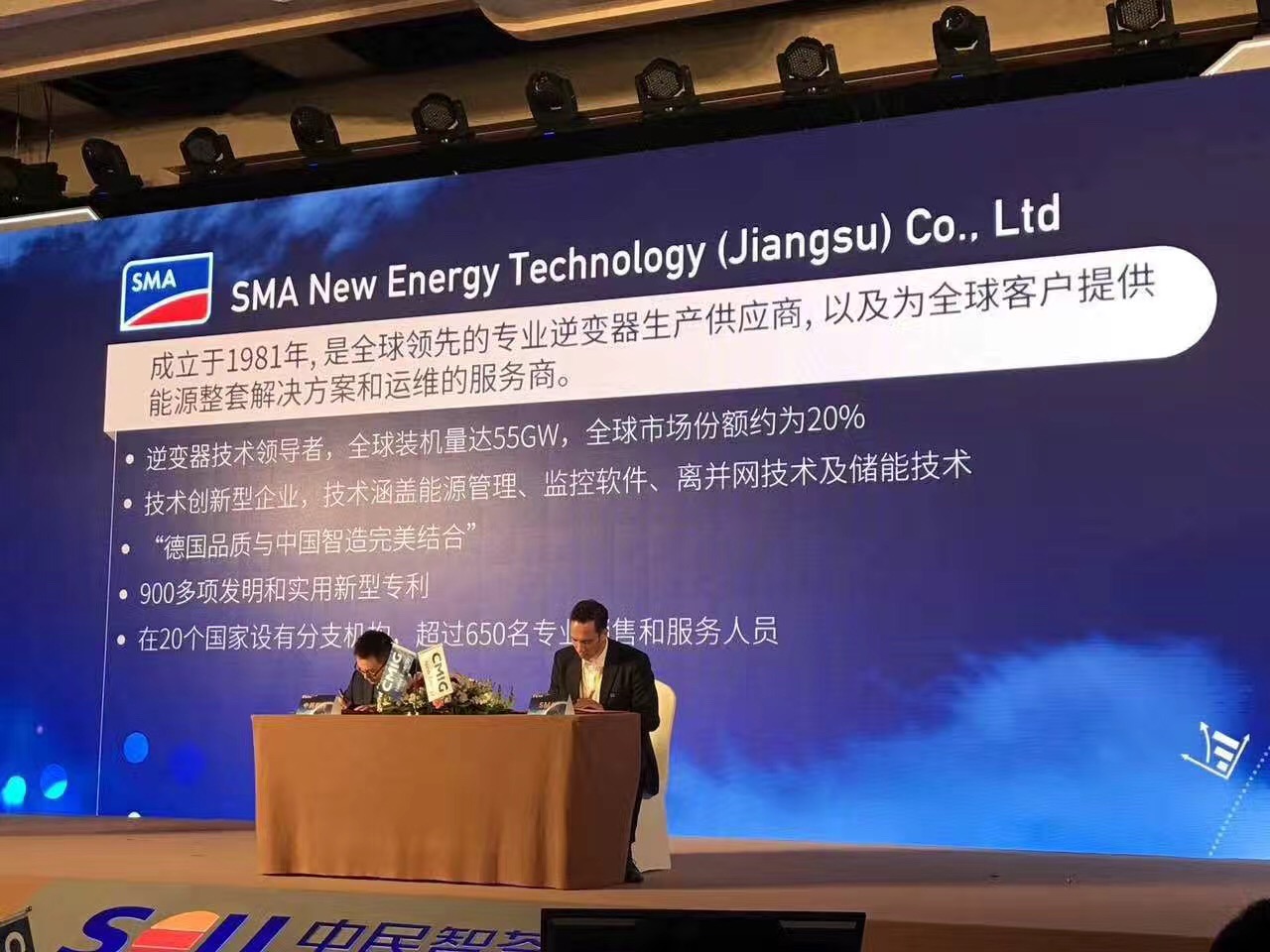 The "Smart Energy Union" press conference was held successfully in Wuzhen, Zhejiang province. It was hosted by China Minsheng Xinguang Co., Ltd, subsidiary of CMIG New Energy. Representatives from government, financial institutions, technical experts as well as more than 300 PV solar service providers were invited to witness the birth of the first interactive platform across the whole PV supply chain.

SMA China, as the key representative of PV inverter suppliers, signed the strategic cooperation agreement with CMIG New Energy on site. As strategic partners, both parties agree to maintain a multi-level communication and take full advantage in information, technology, capital etc. to support each other to expand the residential PV business in China and establish a long-term, stable and sound business cooperation relationship.

"Smart Energy Union", an innovative business model in the Chinese solar market, aims to provide consumers with upgraded products and service, including high-quality inverters and accessories, professional installation guidance, management and strong financial support, while providing distributors and installers with favourable financing policies, cost competitive and reliable equipment, effective technical training and comprehensive marketing support. Through the platform integration, it optimizes resource allocation so as to create win-win situation for all the players within the industry.

String inverters from SMA China in the residential segment range from 1kW to 10kW and are simple, reliable and affordable. They have been installed widely in China and abroad. With the support from China subsidies for distributed solar PV energy systems, the strategic partnership with CMIG and the introduction of the innovative interactive platform "Smart Energy Union", SMA China commits itself to serving more residential applications in China PV market.

About SMA China

SMA New Energy Technology (Jiangsu) Co., Ltd is a high-tech and software enterprise, which specializes in the R&D and manufacture of photovoltaic inverters. As a wholly owned subsidiary of SMA Solar Technology AG and the leading enterprise in the Chinese photovoltaic inverter industry, SMA China is committed to developing and manufacturing high efficiency and reliable PV inverter products to provide solutions in the future.

About CMIG New Energy

As a professional investment platform of CMIG in the field of new energy, CMIG New Energy was established in Beijing with the registered capital of 8 billion RMB on October 29, 2014. It has vigorously expanded the market, established new business models and promoted the development of new energy, new form and new financing models during the past years, obtaining a solid position in the market. By the end of 2016, the registered capital has reached 9.5 billion RMB, forming a group structure dominated by new energy and complemented by manufacture and financing.

SMA New Energy Technology (Jiangsu) Co., Ltd

No. 198 Xiangyang Road

215011 Suzhou

China

Press Contact:

Andy Deng

Marketing Dept.

Tel. +86 512 6937 0998

Fax +86 512 6937 3159

andy.deng@zeversolar.com

About SMA

The SMA Group with sales of around €1 billion in 2016 is the global market leader for solar inverters, a key component of all PV plants. SMA offers a wide range of products and solutions that allow for high energy yields for residential and commercial PV systems and large-scale PV power plants. To increase PV self-consumption efficiently, SMA system technology can easily be combined with different battery technologies. Intelligent energy management solutions, comprehensive services and operational management of PV power plants round off SMA's range. The company is headquartered in Niestetal, near Kassel, Germany, is represented in 20 countries and has more than 3,000 employees worldwide, including 500 working in Development. SMA's multi-award-winning technology is protected by more than 900 patents and utility models. Since 2008, the Group's parent company, SMA Solar Technology AG, has been listed on the Prime Standard of the Frankfurt Stock Exchange (S92) and is currently the only company in the solar industry that is listed in the TecDAX index.