Solplanet inverters backup by service partner Fixit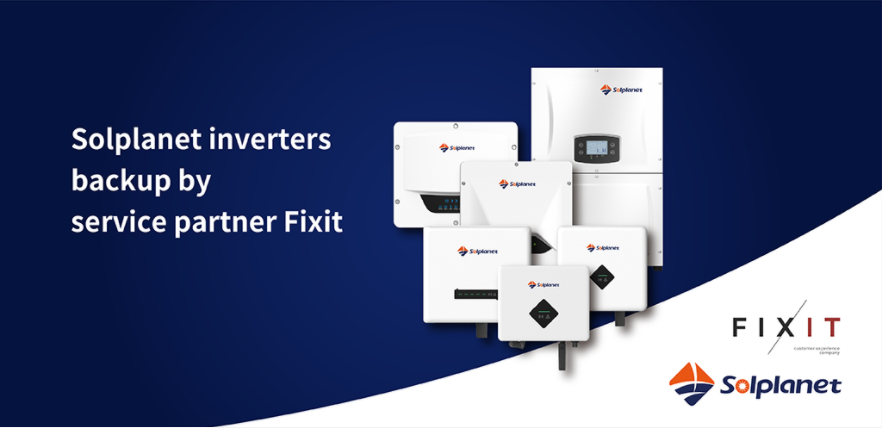 Solplanet is growing as an international brand in the PV industry. To provide customers with local support, Solplanet has started a new cooperation with a service provider in Europe: Fixit. They will be handling the first level customer support for both residential and commercial customers.

Our goal is to help customers reach a higher level of success with Solplanet inverters. Providing professional support is an essential part of maximizing our customer's competitiveness. Together with Fixit, we are able to provide excellent service – friendly, efficient and professional.

We understand that different countries have different requirements. Customers benefit from localized support with a direct hotline. Via this hotline both specialized technical support and product information services will be available. Support will be provided in two languages, English and Polish, by phone and email and also by means of an online RMA tool.  

The hotline can be reached during standard working hours, with a first case response time of maximum 24 hours. If the claim cannot be fixed directly, shipment will be within 48 hours after incoming claim in normal cases. As a result, households and businesses will always have a working inverter, constantly satisfying their energy needs.

The hotline is available now. 
–    The Netherlands: +31 20 800 4844
–    Poland: +48 13 49 261 09

About Solplanet
Solplanet is a brand from AISWEI, which was an SMA Chinese subsidiary and produced Zeversolar series of inverters before separating itself from the SMA group in April 2019. AISWEI specializes in developing and manufacturing photovoltaic inverters.  
Solplanet's headquarter is in China, with respectively research and development labs, purchasing operations and manufacturing facilities in Suzhou, Shanghai and Yangzhong, and annual production capacity exceeds 3GW. Solplanet has established its international sales and service subsidiaries and partnerships in Australia, the Netherlands, India and Taiwan area to provide professional and proximate services to global customers.
Solplanet focuses on bringing solar energy to global users, offering a full range of 1kW to 50kW photovoltaic grid-connected inverter products, energy storage and energy management systems.

About FIXIT
FIXIT SA is a 3rd party outsourcing partner of Consumer Electronic, IT equipment, small appliances, household goods, garden, power & hand tools Vendors. They deliver an aftersales services for the Users of the equipment and for the sales channel. Their mission is to build & support the brand image by providing highest possible services for the brand users and sellers.

With the local presence in Germany, Poland, Czech Republic, Slovakia, Hungary and with the dedicated agreements with the leading forwarding companies they deliver their services across the whole Europe.