AISWEI is now ready for overseas market | New product debut, industry discussion, AISWEI ignited Energy Taiwan 2019
On October 16th, Energy Taiwan 2019 is held in Taipei Nangang Exhibition Ceter. During this exhibition, AISWEI launched AISWEI's new products in Taiwan and jointly held the " Energy Trends Forum and Technical Seminar" with EnergyTrend to create a healthy and green Taiwan together with the Taiwanese colleagues from the photovoltaic industry.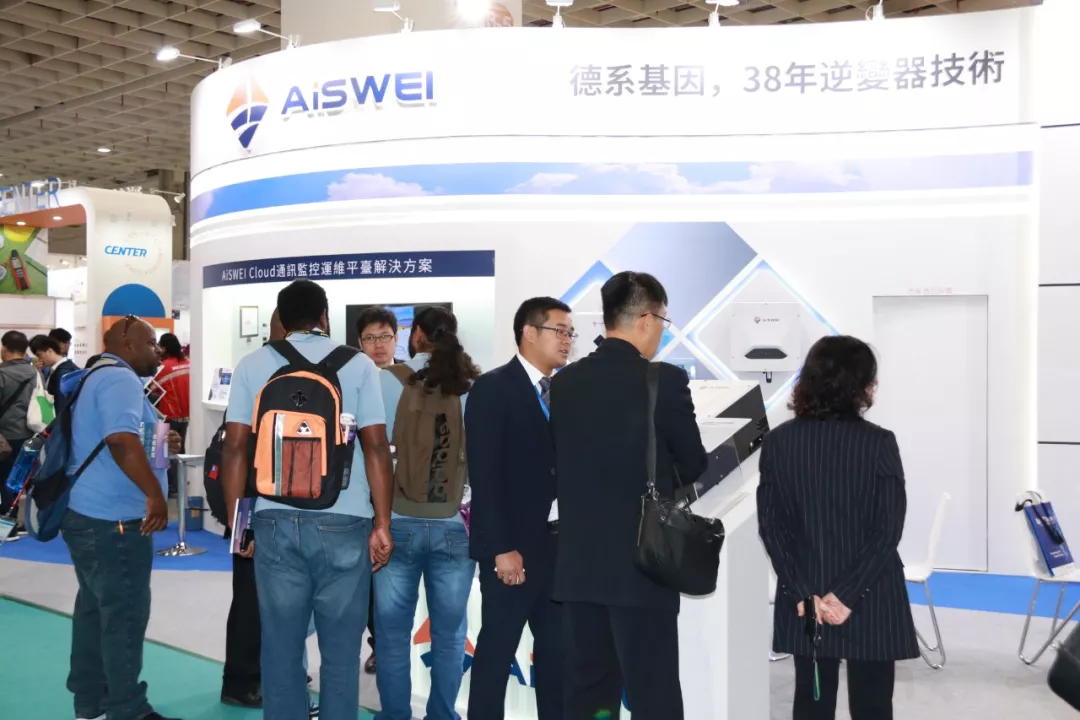 Starts sailing, AISWEI high quality products and brand presentation
 
It was the first formal appearance of AISWEI in Taiwan since its independence from SMA group in Germany this year. During the exhibition, three new AISWEI branded inverters, namely the ASW5000-S, ASW20K-LT and ASW50K-LT, and AiSWEI Cloud monitoring solutions are exhibited. The AISWEI's products, which are developed according to customers' demands and emphasized on power generation maximization, ease of use, easy maintenance, high reliability and high cost performance have won wide recognition from the on-site photovoltaic colleagues.
 
In order to continuously promote the installation volume of renewable energy and stabilize the quality of power grid, Taiwan updated the key specifications of parallel connection technology in November 2018. Inverter products entering the region are required to obtain VPC certification, which usually takes more than 3 months.
 
With close cooperation with the strategic partner TÜV Rheinland, AISWEI has obtained the VPC certification of ASW50K-LT within one and a half months with excellent product quality, professional cooperation team, rich technical experience and strong integrated resource capability. The certificate created the first passport to enter the Taiwan market for AISWEI and created the shortest application time record since the implementation of the certification.
 
As the most professional and largest renewable energy event in Taiwan, the exhibition brought industry experts from all over the world together. AISWEI took this opportunity to actively discuss and interact with local agents, developers and project parties. AISWEI hopes that by delivering more products with higher quality, and higher efficiency, we will be able tomeet the growing demand of Taiwan's photovoltaic market and help the healthy development of local renewable energy.
 
Sharing successful experience, AISWEI is committed to win-win cooperation
 
At the "Energy Trends Forum and Technical Seminar", Dr. Zhang Yong, President of AISWEI, delivered an opening speech. He said at the opening: From the origin of Germany, the company has the basic values of sincerity and trustworthiness, customer first, quality first, thus launching a more efficient and competitive AISWEI brand. We aim to provide high-quality, competitive and value-added products and services for our customers. Based on the interests of our customers and long-term development, we are committed to becoming an international century-old enterprise leading in the field of new energy technology. It is the advantage of AISWEI to understand the industry development, practical application, customer demand and the continuous development and optimization of rooted inverter. Adhering to the German department of craftsmanship quality inheritance, adhere to the German department of service concept, has become the double helix of the development gene. At present, customers in dozens of countries and regions around the world have maintained good cooperation with AISWEI to jointly build high-quality photovoltaic projects. AISWEI, will bring not only high quality AISWEI brand photovoltaic inverter products, but also many years of excellent experience and technical accumulation to Taiwan market. We are willing to share and exchange with our colleagues in Taiwan industry to jointly promote the healthy, orderly and sustainable development of the regional industry.
 
During the past 12 years, AISWEI has accumulated a lot of valuable experience in the world. It is the first inverter company in China to obtain German VDE4105 certification, German BDEW certification and UL1998 software certification. It is also the first successful entry into the UK market. And have achieved impressive results in market share in Australia and Europe.
 
Liu Fei, vice president of sales of AISWEI, introduced that the reason why AISWEI can achieve excellent results overseas is inseparable from the adherence to the German technology and service concept, and also the precise grasp of product innovation and market positioning. 
 
AISWEI has inherited the 38 years advanced inverter technology from SMA group, adopted a well-tested R&D, production, quality control processes, and  a modern logistic center, which will allow us to be more efficient and flexible in meeting the market demand. AISWEI could also provide  integrated solutions for all the three applications of residential, commercial rooftop and industrial medium voltage grid connection. With the help of our unique photovoltaic power station design system and cloud technology program, we can provide customers with the best plant design with the lowest LCOE in a short time.
 
Dr. Shi Jian, Director of the Customer Solutions Center of AISWEI also opened a wonderful discussion on the future technology trends of inverters for the guests. He said: The future development trend of technology must adapt to the essential needs of the market. Photovoltaic power generation will eventually compete with traditional energy sources in cost, and this competition will be supported by the divestiture policy. This is why everyone is now asking for LCOE. The future trend of inverter technology needs to focus on how to meet the four dimensions of investment income, safety, quality, installation and operation, and AISWEI has already done a lot of things in these aspects. AISWEI has continued the consistent German technology and standards, adhere to the industry first-class components, advanced topology structure, continue to use innovative technology, improve the power density of inverter and optimize the process and intelligent solutions, to achieve high quality, high reliability advantages. Dr. Shi also said: "Only by continuous technological innovation and adherence to quality can we meet the future development needs of photovoltaic power generation."
 
The Energy Trends Forum and Technical Seminar also invited experts and industry veterans from TÜV Rheinland, ITRI Green Energy, EnergyTrend, Sunshine Volt, etc. They provided an overview of Taiwan's PV product access and future industry development, solar power station setting rules and operation and maintenance, the status quo and trends of the global and Taiwan PV market, and national photovoltaic era, etc.